Social media is constantly transforming.
More than a place to gel with your friends and family, it has become a place to market your brand and leverage their advantages.
But marketing alone won't make your brand successful. You need to stay updated with the latest trends and technologies and apply them in your business.
Today marketing and social media go hand in hand. As we've already reached midway of 2018, it's crucial to identify the latest social media trends.
In the past one year, several advancements took place: Facebook enticed Snapchat users to use Instagram, Twitter increased its character limits and Google rolled out the mobile-first index.
From where I see, mainstream social media will hustle more in terms of new trends and technologies.
Here are top 5 social media trends you must look forward to in 2018
1. Step into the world of augmented reality
Brands are embracing augmented reality. Look at Snapchat filters and Facebook's messenger app- these apps sense the facial area and motion and accordingly add fictional elements to the screen.
Games like PokemonGo are one of the earliest examples of augmented reality.
I can foresee many changes in social media augmented reality where you get delighted by the real and virtual play.
2. Influencer marketing
Influencer marketing is blooming — according to some, it is a billion dollar industry. Some people gained engagement, money, fame, and popularity in a blink of an eye. And this isn't a fluke, these are actual numbers.
Brands are looking to partner with micro influencers.
What are micro influencers?
Micro influencers, also known as social influencers are those people who have a strong following but aren't a celebrity.
The reason you should partner with a social influencer is that they have 60% higher engagement and you can expect 22.2% more weekly conversations than the average consumer. Another reason to opt is that micro influencers are cost effective.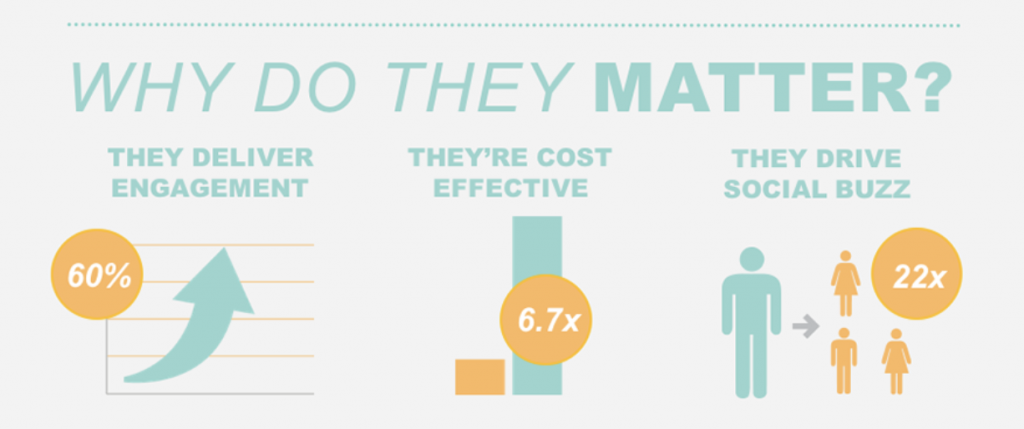 3. Live videos continue to bloom
What was once thought to be a fad is now taken into the mainstream in social media era. Today, businesses whether big or small are taking up live video streaming to gain engagement.
According to a study, 95% of brand execs say live video is key to their 2018 strategies.
As a result, most of the social media channels are having live streaming options and brands are leveraging it.
The increasing fame and popularity of live videos mean your company also needs to get on board with the latest trends. You need to recognize and use the platform which gives the maximum engagement to your brand.
4. Surge in the usage of messaging platforms
According to statista, 2.5 billion people are using messaging platforms globally. In 2018, brands will invest more time and money in connecting with consumers on messaging platforms. Artificial intelligence, voice search, voice assistants, and chatbots will offer customers a personalized shopping experience.
5. Paid advertisements
In 2018, businesses need to aggressively post on social media on a daily basis.
This is necessary for survival; although not enough.
Facebook has more than 6 million users. This is because it has become very easy to set up an add for to a targeted audience. In addition to that, you can also track and analyze the daily report and manage their budgets based on the lifetime of each ad.
Wrapping up

Social media is constantly evolving. As a marketer, you need to stay updated with the latest social media trends for brand engagement and brand storytelling. A number of other social media trends are also anticipated. One of them could be Twitter changing its advertisement options and algorithms. Also, with the coming of new iPhones, augmented reality stands a chance to become a part of mainstream social media.